Mission: Impossible-4 at Dubai Filmfestival
Tom Cruise in MI4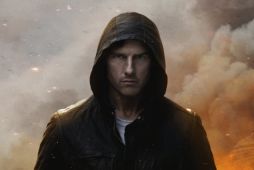 A Hollywood opening for an Arab event
Written by Leo Bankersen; Dubai, December 7th 2011.
Maybe the most interesting thing is that it's not in 3D. Director Brad Bird rather chose to shoot part of his first live-action film in IMAX, an almost dissident stance nowadays.We're talking of course about the fourth installment of the Mission: Impossible series, definitely the most Hollywood-like opening the Dubai festival has had in the eight years of its existence. Yet, being made with a fair share of money from the Emirates and with a key action scene filmed at the world's tallest building in Dubai, the choice seemed quite natural.
With Tom Cruise on the red carpet the festival (December 7-14) managed to draw lots of welcome attention. The whole event more than symbolizes the growing importance in world cinema of Dubai as an eager and relatively wealthy coproducer.
But it's not only the West Dubai has its eye on. 'A galaxy of Arab and international stars descend on Dubai for the film festival,' the Gulf News wrote today. For the cover of its tabloid section it did not choose Tom Cruise as might be expected, but instead the much gossiped Bollywood couple Ranveer Singh and Anushka Sharma. Besides, the main focus of the festival is still on the Muhr competitions for films from (mostly new and upcoming) filmmakers from the Arab region. But it might not be a bad move to have people fly in to catch a glimpse from Cruise, and then show them there's also something else happening here.
In the meantime, the audience attending the opening could enjoy a film that can only be described as 'action packed'. That sounds a bit like a cliché, and quite frankly, Brad Bird hasn't done too much to avoid it. His Mission: Impossible Ghost Protocol, shown here as a so called world premiere after fan screenings in Tokyo, Sydney, Seoul and Mumbai, seems at first even a bit crude after Brad's wonderful Pixar productions The Incredibles and Ratatouille. Though the manoeuvres of a couple of burglars with a virtual screen are hard to beat.
Best part is the episode with the dazzling stunts at the Dubai tower, maybe because the Dubai scenery and architecture are much more stylised than the locations in first part of the film, where the Kremlin is blown to pieces. After the Dubai part Brad pulls of another, almost slapstick-like action piece with cars in vertical motion. There's a most welcome touch of humor and irony from time to time, indicating we shouldn't take all this too seriously. A pity though that some sentimental notes hint at the opposite. Tom Cruise of course, keeps running - his trademark in the series.